2023 Construction Inclusion Week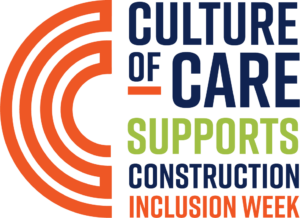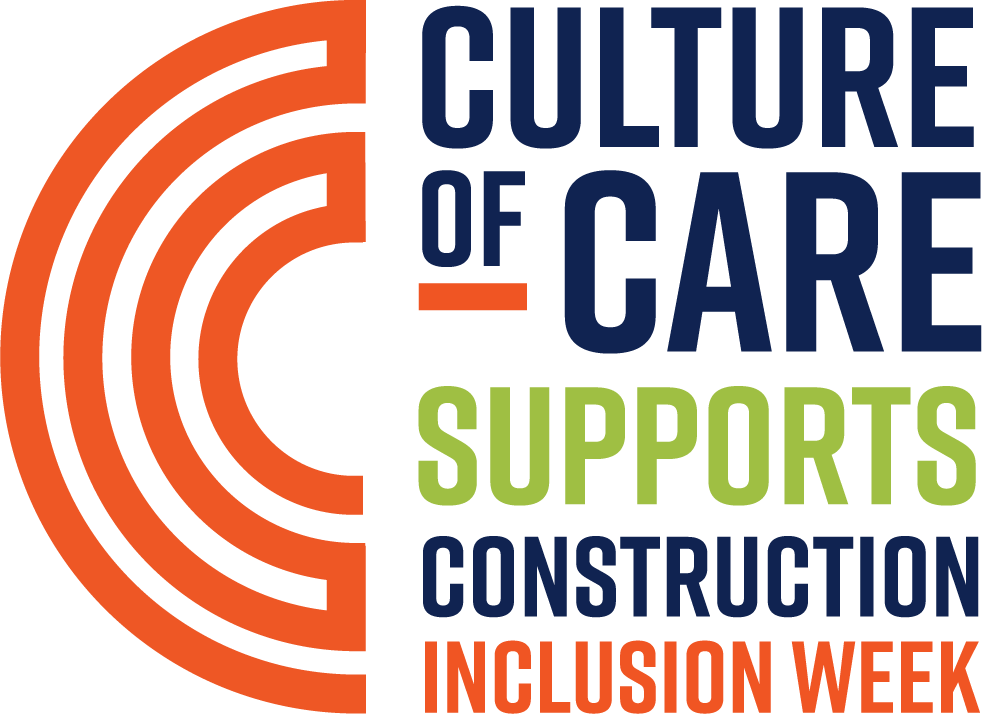 Further your commitment to Culture of CARE by participating in the 2023 Construction Inclusion Week, October 16-20, 2023!
Each day there is a theme for your company to plan activities around. Culture of CARE is supporting Construction Inclusion Week by offering Culture of CARE-specific resources for pledged companies to utilize each day. Additional resources for your company to utilize during the 2023 Construction Inclusion Week can be found at www.constructioninclusionweek.com.
Use Construction Inclusion Week to continue building on efforts by your company to create a Culture of CARE where everybody feels valued, safe, welcome and included.
Planning a job site or company event during Construction Inclusion Week? Let us know!
Please let us know if you are planning a job site or company-wide event during Construction Inclusion Week and would be interested in holding a media event by completing this short survey.
Join us for a 4-Part construction inclusion week webinar series!
From Pledge to Progress: Navigating the Journey to a Culture of CARE in Construction
Sponsored by Procore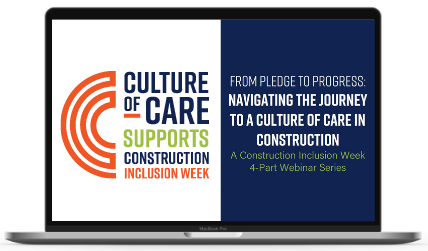 This four-part Construction Inclusion Week webinar series will feature Culture of CARE-pledged companies sharing their stories on how they are fostering a Culture of CARE within their respective companies. As part of AGC and Procore's ongoing commitment towards creating a Culture of CARE in the construction industry, these webinars will amplify the importance of creating a culture that promotes belonging, diversity, and inclusion. Listen in as industry leaders provide valuable insights, actionable steps, strategies, and tools to empower individuals working in the construction industry to actively contribute to a supportive and inclusive work environment. Register Now!
Daily Resources
Monday, October 16, 2023 – Commitment & Accountability
1.

Take the Culture of CARE Pledge
2.
Recommit to the Culture of CARE Pledge
Download CEO Recommit Letter to Employees
3.

Take the D&I Assessment
Tuesday, October 17, 2023 – Belonging
1.
Conduct an Employee Inclusion and Belonging Survey
View sample survey questions
2.
Hold Belonging Teambuilding Activities
Wednesday, October 18, 2023 – Supplier Diversity
1.
Create or Grow a Formal Supplier Diversity Program
2.
Build Community with Trade Partners
Host job site events for all employees and trade partners and reinforce your company's commitment to creating a Culture of CARE
Thursday, October 19, 2023 – Workplace Culture
1.
Hold Facilitated Discussions with the Culture of CARE Jobsite Orientation Videos
Friday, October 20, 2023 – Community Engagement
1.
Plan a Career Day for local 3rd graders
3.
Hold a Volunteer Day for Employees
Plan a volunteer day in your local community for your staff
4.
Celebrate Your Participation in COnstruction Inclusion Week!
Share on Social Media how your company has participated in Construction Inclusion Week. Use the hashtags

#CultureofCARE

and

#ConstructionInclusionWeek

and tag AGC of America so we can like and share your posts!

Additional resources for your company to utilize during the 2023 Construction Inclusion Week can be found at www.constructioninclusionweek.com